We are so very pleased to be able to share with you the criminally creatives who you'll be able to see on the panels of the festival.  They're in alphabetic order by surname. But keep scrolling, because at the bottom you'll see the Crime Cymru members who are appearing in our Crime Close Up.
Cathy Ace
Author of the traditional Cait Morgan Mysteries, the cosy WISE Enquiries Agency Mysteries, and the psychological suspense novel The Wrong Boy, Cathy was born and raised in Wales, and migrated to Canada aged 40. A Bony Blithe, IPPY, and IBA Award winner, her books have been bestsellers around the world.
For more info see www.cathyace.com
Belinda Bauer
Belinda Bauer's debut, Blacklands won the CWA Gold Dagger for Crime Novel of the Year. Her books are standalones that take a holistic and witty view of crime, criminals and their victims. In 2018 she became the first crime writer to be nominated for the Booker Prize, for Snap. 
Mark Billingham
Coming from Birmingham, Mark has worked as an actor, a TV writer, and a stand-up comedian. His series featuring London-based detective Tom Thorne continues alongside a number of standalone novels. Mark is also a regular contributor to radio and TV and is a member of 'Fun Lovin' Crime Writers', a combo of bestselling crime and thriller writers who performed at the Glastonbury Festival in 2019.
For more see uk.markbillingham.com
Ann Cleeves
Ann Cleeves is the author of over thirty-five critically acclaimed novels, and winner of the CWA Diamond Dagger 2017. She's creator detectives Vera Stanhope, Jimmy Perez and Matthew Venn, who can be found in ITV's Vera, BBC1's Shetland and ITV's The Long Call. She lives in Northumberland where the Vera books are set.
Jacky Collins
Dr. Jacky Collins is the Festival Director for Newcastle Noir. As 'Dr Noir' she regularly interviews a range of internationally acclaimed and emerging crime fiction authors at national and international events. Her series of author 'consultations' on the Newcastle Noir YouTube channel is where lovers of all things crime fiction can catch up on news about latest publications.
MW Craven
Multi-award winning author M. W. Craven grew up in Newcastle. After joining the army at 16, he left a decade later to complete a social work degree, after 16 years as a probation officer, he's now a full time author. The Puppet Show, the first Washington Poe book, won a CWA Gold Dagger, and has been translated into 21 languages.
For more information see mwcraven.com
Fflur Dafydd
Fflur Dafydd is an award winning novelist and screenwriter who writes in Welsh and English. Her TV credits include the BAFTA Cymru nominated Parch, Yr Amgueddfa, 35 Awr and 35 Diwrnod, and her film adaptation of her novel Y Llyfrgell/The Library Suicides has won a number of awards. 
Mae Fflur Dafydd yn nofelydd ac yn sgriptwraig. Hi yw awdur y cyfresi poblogaidd Parch, Yr Amgueddfa, 35 Awr and 35 Diwrnod, ac fe enillodd ei haddasiad ffilm o'i nofel Y Llyfrgell nifer o wobrau
Alun Davies
Alun Davies is an author, software developer, and football fan from Aberystwyth, now living in Cardiff. He is the writer behind the Taliesin Macleavy detective trilogy, and is currently working on an adventure novel for young adults, based on the historical tales of the Mabinogi.
Mae Alun Davies yn awdur, datblygwr meddalwedd a ffan pêl-droed o Aberystwyth, sydd bellach yn byw yng Nghaerdydd. Fe yw awdur trioleg dditectif Taliesin Macleavy, ac ar hyn o bryd mae e'n gweithio ar nofel antur i oedolion ifanc ar sail straeon y Mabinogi.
Mark Ellis
Mark Ellis is the Welsh author of the acclaimed DCI Frank Merlin series set in WW2 London. 4 books have been published so far and a fifth will be out in May 2022. He is a CWA award nominee, a member of Crime Cymru, Treasurer of Gŵyl Crime Cymru Festival and is published by Headline.
Barry Forshaw
Barry Forshaw writes on crime fiction and film for such papers as the FT and the 'I'. Books include Crime Fiction: A Reader's Guide, the Keating Award winner Brit Noir, British Crime Writing: An Encyclopedia (also a Keating winner) & Simenon. He provides extras for Blu-rays & edits Crime Time
Jon Gower
Jon Gower has just completed a trilogy of Welsh language crime novels with Y Diwedd which started with Y Düwch and then Y Dial. Jon is a former BBC Wales arts and media correspondent with over forty books to his name, with Turning Tides about the Irish Sea due out in 2023.
Mae Jon Gower newydd orffen Y Diwedd, i gwblhau ei drioleg o nofelau trosedd, a ddechreuodd gydag Y Düwch ac wedyn Y Dial. Mae Jon yn cyn-ohebydd y celfyddydau a'r cyfryngau i'r BBC, ac yn awdur mwy na 40 o lyfrau, gyda Turning Tides, am Fôr Iwerddon, i ddod yn 2023.
The photo credit: Marian Delyth
Elly Griffiths
Elly was born in London, and worked in publishing before becoming a full-time writer. Her bestselling series of Dr Ruth Galloway novels, featuring a forensic archaeologist, are set in Norfolk. The series has won the CWA Dagger in the Library, and has been shortlisted three times for the Theakston's Old Peculier Crime Novel of the Year. Her Brighton-based mystery series is set in the 1950s and 1960s. Elly has also written two mysteries featuring Detective Harbinder Kaur, The Stranger Diaries, which was a Richard & Judy bestseller and won America's most coveted accolade for crime fiction, the Edgar Award, and The Postscript Murders. Elly lives near Brighton with her husband, an archaeologist, and their cat, Gus.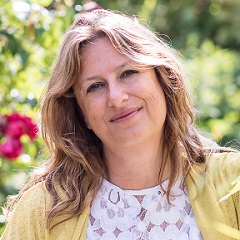 Mari Hannah
Mari Hannah is award-winning crime writer, scriptwriter, and former Programming Chair of Theakston Old Peculier Crime Writing Festival. Her career as a probation officer was cut short following an assault on duty. She lives with her partner, an ex-murder detective in Northumberland. Her Kate Daniels series is in development with Sprout Pictures.
Alis Hawkins
Alis is the author of the CWA historical dagger-shortlisted Teifi Valley Coroner series set in west Wales. There are currently four books in series, with a fifth on ice while Alis starts a new series set in 1880s Oxford.
Alis speaks Welsh, collects rucksacks and can't resist an interesting fact.
For more info see: alishawkins.co.uk
Matt Johnson
Matt served as a soldier and Police officer for nearly 25 years. In 1999, Matt was discharged from the police with Post Traumatic Stress Disorder. Whilst undergoing treatment, he was encouraged by his counsellor to write about his career and his experience of murders, shootings and terrorism.
Matt's first novel was the 2016 CWA Dagger listed 'Wicked Game'.
More about Matt at www.mattjohnsonauthor.com
Beverley Jones
Beverley Jones is a former journalist and police press officer who started her career with Trinity Mirror newspapers before becoming a broadcast journalist with BBC Wales Today.  Her most recent novels include The Beach House and Wilderness, optioned by Firebird Pictures and Amazon Prime for a six-part TV series, due to air in 2023.
Philip Gwynne Jones
Philip Gwynne Jones is the author of the bestselling Venice-based Nathan Sutherland series. Originally from Swansea, he now lives in Venice with his wife Caroline and a modestly friendly cat called Mimi. He enjoys cooking, art, classical music, old horror films and listens to far too much Italian Progressive Rock.
Peter Jukes
Peter Jukes is an author and screenwriter who retrained as a journalist during the phone-hacking scandal in 2011. Since then, Peter has devoted his energies to encouraging more investigative journalism, by confounding the newspaper Byline Times and the Byline Festival 
Awais Khan
Awais Khan is the award-winning author of No Honour and others, a graduate of The University of Western Ontario and Durham University, and studied Creative Writing with Faber Academy. He has appeared on BBC World Service, various other radio outlets, given lectures at universities around the world, and runs creative writing coursew with The Writing Institute.
For more info:  aforauthors.co.uk/authors/awais-khan/
Vaseem Khan
Vaseem Khan is the author of two award-winning crime series set in India. His debut, The Unexpected Inheritance of Inspector Chopra, was selected as one of the Sunday Times best crime novels 2015-2020. In 2021, Midnight at Malabar House is set in 1950s Bombay, won the CWAs Historical Dagger. 
For more info see vaseemkhan.com
Chris Lloyd
Chris Lloyd lived in Catalonia for 24 years, where he worked in teaching, publishing and as a Catalan and Spanish translator.
Now in Wales, he writes the Eddie Giral series, about a Paris police detective under the Nazi Occupation. The first book in the series – The Unwanted Dead – won the HWA Gold Crown and was shortlisted for the CWA Historical Dagger.
Clare Mackintosh
Clare Mackintosh is the multi-award-winning author of four Sunday Times bestselling novels, the first three all Richard and Judy Book Club picks. Translated into forty languages, her books have topped the New York Times and the Sunday Times bestseller chart. Clare lives in North Wales with her family.
For more information see www.claremackintosh.com
Alastair Morgan
Since the murder of his brother Daniel 1987, Alastair Morgan has been a prominent campaigner against police and press corruption. Daniel's murder was the subject of a report by the government appointed Daniel Morgan Independent Panel which found the Metropolitan Police to be institutionally corrupt.
Thirty-five years after the murder, it remains officially unsolved.
Co-author of Who Killed Daniel Morgan and participant in @UntoldMurder.
Abir Mukherjee
Abir Mukherjee is the bestselling author of the Wyndham & Banerjee series set in Raj-era India. Books in the series have twice won the CWA Historical Dagger and have been shortlisted for the CWA Gold Dagger and the HWA Gold Crown. Abir grew up in Scotland and now lives in Surrey with his wife and two sons.
Louise Mumford
Louise's debut novel, Sleepless, a "frighteningly inventive" thriller inspired by her own insomnia, was published in December 2020 by HQ HarperCollins. A UK Amazon Kindle Top 50 bestseller, it was the Asda Karin Slaughter Killer Read for July 2021. Her second thriller, The Safe House, is published in May 2022.
Gwen Parrott
Originally from Pembrokeshire, Gwen is the author of seven Welsh language crime novels, three of which she has translated into English. The novels form two series, one semi-historical set after the Second World War, and the other contemporary, located in the fictional town of Maeseifion.
Yn wreiddiol o Sir Benfro, mae Gwen yn awdur saith nofel drosedd Gymraeg, y mae hi wedi cyfieithu tair ohonynt i Saesneg.
Mae'r nofelau'n ffurfio dwy gyfres, un lled-hanesyddol wedi'i gosod ar ôl yr Ail Ryfel Byd, a'r llall yn gyfres gyfoes, wedi'i lleoli yn nhref ffuglennol Maeseifion.
Lilja Sigurðardóttir
Lilja Sigurðardóttir was born in Iceland and raised in Mexico, Sweden, Spain and Iceland, now living in Reykjavik. An award-winning playwright, Lilja has written four crime novels, with Snare, her English debut shortlisting for the CWA International Dagger she has hit bestseller lists worldwide. Lilja is also an award-winning screenwriter in her native Iceland.
For more information see liljawriter.com
Katherine Stansfield
Katherine Stansfield's Cornish Mysteries series is set in the 1840s. Her detective duo investigates crimes based on real events in Cornish history and involve a good dash of folklore. The latest in the series is The Mermaid's Call. Katherine is also one half of the fantasy-crime writing partnership D. K. Fields. 
GB Williams
GB Williams specialises in complex, fast-paced crime novels. Born and bred in Kent, GB moved to South Wales, settled down and, now working as a freelance editor and writer, she lives with family and the world's most demanding cat. And hates every photo ever taken of her. Find out more at www.gailbwilliams.co.uk.
Roger Williams
Roger Williams is an award-winning writer and producer.   He created the crime drama series Bang for S4C and has written for the BBC, ITV and Channel 4.  His first feature film The Feast premiered at SXSW and will be released in cinemas by Picturehouse in the UK in April 2022.
Mae Roger Williams wedi ennill sawl gwobr am ei waith fel awdur a chynhyrchydd.  Creodd Roger y gyfres ddrama Bang ar gyfer S4C ac mae wedi ysgrifennu dramâu ar gyfer y BBC, ITV a Channel 4.  Bydd Gwledd, ei ffilm nodwedd gyntaf a welwyd am y tro cyntaf yn SXSW, yn cael ei rhyddhau mewn sinemâu gan Picturehouse ar draws y DU ym mis Ebrill 2022.
Trevor Wood
Trevor Wood is an ex-sailor, playwright and journalist. His first novel The Man on the Street, set in Newcastle's homeless community, won the CWA's New Blood Dagger and the Crimefest Debut Prize in 2020, and was shortlisted for the Theakston's Crime Novel of the Year. It was followed by One Way Street and Dead End Street.
Part of the ethos of Crime Cymru is to support and raise awareness of Welsh crime writers and their work. To do this we are holding Crime Close Ups before our panels where our Crime Cymru members can introduce themselves and read a sample of their work. We hope you tune in and find your next favourite author.
RG Adams
Allegation, RG Adams' debut novel, is the first of a 2 book deal with riverrun, the Literary and Crime fiction imprint of Quercus/Hachette. The second in the series, The Last House, will be published in 2022. Both books have been optioned for television. RG Adams is a former social worker from Wales.
RG will be appearing before Event 3
Ripley Hayes
Ripley is an ex-academic who makes her home in a cabin in the woods in west Wales. She write contemporary mysteries with LGBTQ characters set in Wales. There are no serial killers, just real people living ordinary lives, until something comes along to upset the balance. Find me at:
Ripley will be appearing before Event 6
Sam Hurcom
Sam Hurcom was born in Dinas Powys, South Wales in 1991. He studied Philosophy at Cardiff University, attaining both an undergraduate and master's degree. He has since had several short stories published, and has written and illustrated a number of children's books. Sam's debut novel – A SHADOW ON THE LENS – was released in 2019.
https://www.orionbooks.co.uk/contributor/sam-hurcom/
Sam will be appearing before Event 11
Alison Layland
Alison Layland, writer and translator, lives and works in the Welsh borderlands. Her two psychological thrillers are: Someone Else's Conflict, a compelling narrative of storytelling and the aftermath of war, and Riverflow, a story of family secrets and community tensions against a background of flooding and environmental protest.
Alison will be appearing before Event 1
Graham H Miller
Graham H Miller is the author of five books in two series. The Jonah Greene mysteries are two novels follow a coroner's assistant in South Wales, and there are three Angel & Haines police procedural mysteries set in a fictional West Country seaside town. Learn more at https://grahamhmiller.com
Graham will be appearing before Event 10
John Nicholl
John Nicholl, an ex-police officer, child protection social worker and lecturer, is an award-winning, bestselling author of 12 darkly psychological suspense thrillers.
John's books are set in the UK and have a strong Welsh flavour. He began writing after leaving his job heading up child protection services.
Find out more at: www.johnnicholl.com
John will be appearing before Event 7
Leslie Scase
Former Customs & Excise Officer Leslie Scase is the author of the Inspector Chard Mysteries; atmospheric crime thrillers set in the heyday of Victorian Britain. The second novel, Fatal Solution, was published in May 2021. Originally from Pontypridd but now living in Shropshire, Leslie is published by Seren Books.
www.facebook.com/InspectorChard
Leslie will be appearing before Event 4